The LA Auto Show is taking place this week and the new Cadillac ELR will have some unique new features. The vehicle will leave Detroit, Michigan smart grid ready by using the extended range electric vehicle (EV) technology. Combined with OnStar's could-based connection, the ELR will be able to communicate with the electric grid and potentially save energy.
ELR owners will have access to the OnStar RemoteLink Mobile App, which in addition to allowing drivers to check their vehicle's operating systems and send remote commands, gives them access to EV specific functions. The EV-tailored app shows owners their vehicle's current state of charge, electric range, electric miles driven and eMPG, or equivalency of electric miles per gallon.
The RemoteLink Mobile App also will allow ELR owners to control and schedule vehicle charging, including an option to charge during off-peak hours when electricity rates are lowest. In addition to the RemoteLink app available today, OnStar is an enabler for solutions that may benefit drivers in the future.
"While RemoteLink is really our first Smart Grid service to be available for consumers, the same connection we use to enable the app's EV functions can be used to open the door for more energy cost and load control benefits," said Russ Eling, manager, Smart Grid and EV Services, General Motors.
OnStar has four unique Smart Grid APIs, or Application Programming Interfaces, that utilities and third-party companies can work with to develop real-world solutions for the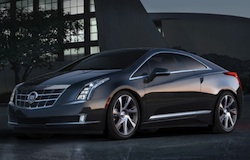 ELR including demand response, time-of-Use rates, charging data, and aggregated services.
An example of an aggregated service solution would be charging with renewable energy. A regional transmission organization would send OnStar a signal letting it know that renewable energy is available on the electric grid. OnStar then uses this signal to manage the charging of one or multiple EVs in order to utilize the available renewable energy.
OnStar recently partnered with TimberRock Energy Solutions, Inc. using Demand Response to aid with TimberRock's ability to store and charge with solar energy.