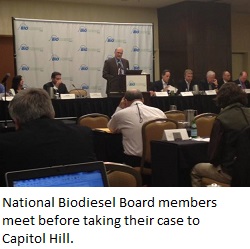 Biodiesel backers are not quite ready to throw in the towel when it comes to the Renewable Fuel Standard (RFS). Backed by the National Biodiesel Board, they took to Washington, D.C. to voice their disappointment with the Obama Administration's recent proposal for next year's renewable fuels volumes.
"If the EPA freezes the biomass-based diesel target, it would put our company out of business," said [Ben] Wootton, president and CEO of Keystone BioFuels of Camp Hill, Pa. [which faces closure because of the EPA's proposed numbers]. "Keystone is just starting to come out of a reorganization plan. The EPA proposed freeze on biomass-based diesel would essentially cut our current market in half and force us to shut our doors. It would be a major step back for the environment and the economy in our state."
Anne Steckel, vice president of federal affairs at the National Biodiesel Board, said more than 100 biodiesel supporters, representing more than two dozen states from California to Iowa to North Carolina, will be making sure their members of Congress understand that this proposal will eliminate jobs and threaten production in their states.
"Our producers are frustrated and disappointed that the Administration, with no explanation, is essentially freezing a growing Advanced Biofuel industry for the next two years at production levels far below where they are today," Steckel said. "Biodiesel is an RFS success story, and this proposal turns its back on that success and on the producers who have made it happen."
NBB points out the biodiesel industry is on track to produce a record of about 1.7 billion gallons this year, which makes the EPA's target for the next two years of only 1.28 billion gallons of biomass-based diesel even more puzzling. NBB has already projected the proposal could cost 8,000 jobs or more.