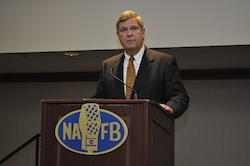 Secretary of Agriculture Tom Vilsack is defending the Obama Administration's proposal to cut the 2014 Renewable Volume Obligations (RVOs) as part of the Renewable Fuel Standard (RFS) for the amount of renewable fuels to be blended into gasoline and diesel. But some of the people he spoke to, along with several biofuel advocates, are questioning the legality of the cuts. The Environmental Protection Agency has proposed to set the cellulosic biofuel category at 17 million gallons, biomass-based diesel at 1.28 billion gallons, advanced biofuel at 2.20 billion gallons and renewable fuel at 15.21 billion.
In remarks before farm broadcasters during the 70th National Association of Farm Broadcasting Annual Convention in Kansas City, Vilsack said EPA's unprecedented number of comments in the proposal shows how much the agency wants to work with the biofuels industry to make sure their fuels will work for American consumers.
"What EPA has done is essentially said 'We are very interested in maintaining this industry, and we need information from the industry as to policies and programs, in addition to the RFS, that would allow this industry to be more sustainable and more profitable,'" Vilsack said, adding that as part of the comment period for this RVO proposal, the industry will get more input on policies.
As far as USDA is concerned, he said his folks will concentrate on parts of the industry they can control, pointing to programs such as Rural Energy for America Program (REAP), which provides funds for infrastructure to make sure those higher blends biofuels can be available.
"I think our challenge is to work with the industry … that they need work to create a distribution system, and that they can't rely on the petroleum industry [to do it for them]."
When pressed by Michelle Rook of WNAX about the authority that EPA had to set RVOs lower than what the law allows, Vilsack, while pointing out he doesn't run the EPA, said the law does allow for the waiving of statutorily mandated requirements.
"[EPA] would say the reason they are reducing the numbers is because we are at a point where the amount of fuel being consumed in this country is 130 billion gallons," and when you figure on the distribution problems he said needed to be worked on that basically limit to a 10 percent ethanol blend, that caps how much the EPA can require. "That's why the EPA went the extra mile of saying, 'Hey, we have to figure out how to get more higher blends in the marketplace. Give us your ideas.'"
Vilsack pointed to how USDA is working with the EPA, the military and civilian aviation industries to expand biofuel use in those areas as his agency's commitment to making sure the RFS and biofuels industries are successful.
You can hear Vilsack's remarks specifically about the RFS here: Secretary Vilsack Press Conference comments on RFS
And you can hear the entirety of what he had to say to farm broadcasters here: Secretary Vilsack Press Conference