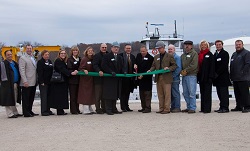 Renewable Energy Group has opened a new biodiesel loading facility on the Illinois River. This REG news release says it will help move the green fuel from REG's 60-million gallon biorefinery in Seneca, Ill.
The barge loading facility will be supported by the addition of 2.5 million gallons of new terminal storage. REG's total investment in these upgrades is about $4.5 million.
"The barge berth at REG Seneca further enhances our lower-cost, efficient business model," said Daniel J. Oh, President and CEO of Renewable Energy Group, Inc. "Adding more barge capabilities to our network of biorefineries and terminals across the country gives REG another capability for providing high quality biodiesel to our existing and future customers."
"Every full barge that leaves Seneca equates to about 65 truckloads of biodiesel," said Brad Albin, REG Vice President, Manufacturing. "This not only increases efficiencies, but expands the geography and customer base we can cover through the inland waterways system."
Biodiesel is also leaves Seneca by truck and rail, and the company has barge and deepwater ship loading capability In Houston and the New York City area. REG owns and operates eight biodiesel refineries in four states able to produce up to 257 million gallons a year.