It was only a few weeks ago that one of the largest, if not the largest commercial scale advanced biofuel facility in the world using enzymatic technology marked the official opening in Crescentino, Italy. The project partners included global companies Beta Renewables and Novozymes.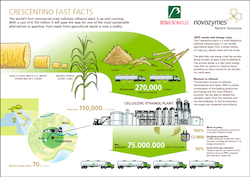 The biorefinery features Novozymes Cellic® CTec enzymes, a technology developed and refined specifically for the cellulosic ethanol industry. The multi-feedstock facility uses wheat straw, rice straw and arundo donax to produce ethanol.
To learn more about Cellic and how the enzyme technology was refined for this project, I spoke with Jason Blake, Director, Biomass Conversion with Novozymes who explained that the genesis for the project began several years back. The relationship with Beta Renewables was one of collaboration that began in the lab and in the pilot facility in looking at making a commercially viable project for Beta Renewables.
Through the efforts the team has been looking at technologies and developments to optimize the process technology and optimize the enzyme technology to help them become a commercially viable player in the market. In addition, with co-marketing plans in place, the two companies plan on bringing the technologies to market to help the advanced biofuels industry grow.
So why are enzymes so important in the ethanol production process? "Enzymes are unique in the process. They play a part not just in the hydrolysis piece they can unlock opportunities along the process technology value chain, explained Blake."
Enzymes, he explained have been able to reduce the cost of capital at the front end. "Through the development of the enzymes and increasing the performance, we're able to reduce the enzyme dosage and reduce the hydrolysis time and increase the sugar conversions which thereby open up opportunities to invest money in other areas," he said.
Blake also explained that the enzyme technology is optimized for each plant's technology and feedstock allowing the company's research and development to extend well into the future of the industry.
For more information about the collaboration between Novozymes and Beta Renewables and to learn more about the philosophy and research and development efforts of Novozymes, listen to my in-depth interview with Jason Blake. Novozymes Cellic Ctec Enzyme Featured in Cellulosic Plant