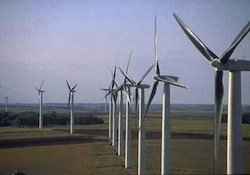 Minnesota Power's Bison Wind Energy Center in North Dakota was voted the best wind project of the year at the 2013 POWER-GEN International Conference. According to Minnesota Power spokespeople, this award is considered the industry's top honor for a new wind generation project.
"It's gratifying to be honored by your peers for conceiving and completing a world-class renewable energy project," said Al Hodnik, chairman, president and CEO of ALLETE Inc., the parent company of Minnesota Power. "Wind generation is a critical component in achieving our EnergyForward resource strategy of an energy mix that is one-third renewable, one-third coal and one-third natural gas as we help transform the nation's energy landscape."
Minnesota Power was honored for phases 2 and 3 of the Bison Project, whose capacity of 292 MW includes 85 state-of-the-art direct-drive Siemens 3MW turbines. The energy is delivered to customers using a repurposed direct current transmission line, originally built in the 1970s to send coal-based power from Center, North Dakota to Duluth, Minn.
On August 1, Minnesota Power announced it was moving ahead with phase 4 of the Bison project pending regulatory approval, a 205MW addition that will make it the largest wind farm in North Dakota at nearly 500 MW of capacity.