According to Niels Miles Frandsen, Marketing Director, Biofuel, with global biocompany Novozymes, their company's enzyme Avantec is now used to produce over 20 percent of the U.S. corn ethanol after only being on the market for just over one year. He said that both Avantec, that was released in October of 2012 and Spirazyme Achieve that was released in June of 2013, and now has 10 percent of the market, are doing better than they even hoped.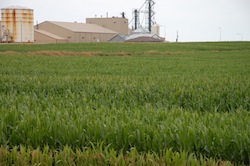 "Right now ethanol producers are running really tight operations and are constantly looking for ways to improve their production," said Frandsen. "This technology we have today called Avantec and Spirazyme Achieve actually allows customers to save a lot of corn and still produce the same amount of ethanol."
Avantec is used in the first part of the production process called liquefaction; whereas Achieve is used in the subsequent process called Saccharification Fermentation. While the two enzymes can work independently of each other, Frandsen said when used together, the enzymes enable producers to squeeze more ethanol out of the corn while saving on energy and chemicals, improving profit margins and efficiency, and reducing their environmental footprint.
When the enzymes are paired together along with Olexa, Frandsen said they are seeing ethanol yield increases of up to 5 percent and corn oil extraction increases by to 13 percent, while saving 8 percent energy. "And all of these things together are big drivers for ethanol producers in the market today."
To look the savings another way, a typical U.S. ethanol plant uses around 900,000 tons of feed-grade corn per year to produce 100 million gallons of fuel ethanol, 300,000 tons of animal feed and 8,500 tons of corn oil. With Avantec and Spirizyme Achieve, such a plant can either save 36,000 tons of corn while maintaining the same ethanol output or produce an additional 4 million gallons of ethanol without increasing input costs. Either way, profits improve substantially.
Frandsen also gives ethanol producers tips on how to transition their plants to the next generation enzyme technologies.
Learn more about Avantec and Spirazyme Achieve in my interview with Niels Miles Frandsen. Avantec Bringing Ethanol Producers Results