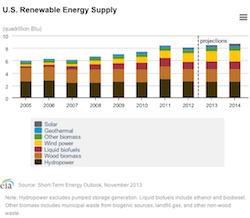 The U.S. Energy Information Administration (EIA) has released its November 2013 Short-Term Energy Outlook and Winter Fuels Outlook. The report comes at the same time the 2013 World Energy Outlook was released by the International Energy Agency.
Here are some highlights from the report:
The weekly U.S. average regular gasoline retail price has fallen by more than 40 cents per gallon since the beginning of September. EIA's forecast for the regular gasoline retail price averages $3.24 per gallon in the fourth quarter of 2013, $0.10 per gallon less than forecast in last month's STEO. The annual average regular gasoline retail price, which was $3.63 per gallon in 2012, is expected to average $3.50 per gallon in 2013 and $3.39 per gallon in 2014.
The North Sea Brent crude oil spot price averaged nearly $110 per barrel for the fourth consecutive month in October. EIA expects the Brent crude oil price to decline gradually, averaging $106 per barrel in December and $103 per barrel in 2014. Projected West Texas Intermediate (WTI) crude oil prices average $95 per barrel during 2014.
The projected discount of the WTI crude oil spot price to Brent, which averaged more than $20 per barrel in February 2013 and fell below $4 per barrel in July, increased to an average of $9 per barrel in October, driven in part by the seasonal decline in U.S. demand and the resulting increase in crude oil inventories. EIA expects the WTI discount to average $10 per barrel during the fourth quarter of 2013 and $8 per barrel in 2014.
U.S. crude oil production averaged 7.7 million barrels per day (bbl/d) in October. Monthly estimated domestic crude oil production exceeded crude oil imports in October for the first time since February 1995, while total petroleum net imports were the lowest since February 1991. EIA forecasts U.S. crude oil production will average 7.5 million bbl/d in 2013 and 8.5 million bbl/d in 2014.
Natural gas working inventories ended October at an estimated 3.81 trillion cubic feet (Tcf), 0.12 Tcf below the level at the same time a year ago but 0.05 Tcf above the previous five-year average (2008-12). EIA expects that the Henry Hub natural gas spot price, which averaged $2.75 per million British thermal units (MMBtu) in 2012, will average $3.68 per MMBtu in 2013 and $3.84 per MMBtu in 2014.
EIA Administrator Adam Sieminski issued the following comments about the findings.
Renewables: "Wind power generation is forecast to grow by 17% this year and by nearly 4% in 2014, accounting for more than 4% of total U.S. electricity generation next year. EIA expects continued robust growth in solar power, with solar generation by the U.S. electric power sector increasing 82% this year and jumping another 84% in 2014. However, utility-scale solar power will continue to be a small share of total U.S. electric generation at less than 1%."
U.S. Liquid Biofuels: "U.S. ethanol production has recovered from last year's drought. Ethanol production increased from an average of 806,000 barrels per day in October 2012 to 892,000 barrels per day this October, and is forecast to grow to 900,000 barrels per day during 2014."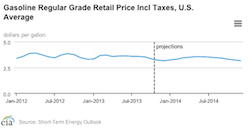 Gasoline: "U.S. gasoline prices fell during nine of the last 10 weeks and are expected to keep dropping through the end of the year. Weekly U.S. average regular gasoline retail prices fell from their summer high of $3.68 per gallon in late July to their lowest level so far in 2013 at $3.19 on November 11. EIA expects that falling crude oil prices and a well supplied gasoline market will help drive U.S. retail gasoline prices down further for the remainder of the year, falling to a monthly average of $3.17 per gallon in December."
Crude Oil: "As EIA predicted back in March, it appears the United States produced more crude oil in October than it imported for the first time since early 1995. Monthly estimated domestic crude oil output averaged 7.7 million barrels per day in October, which was the highest production for any October in 25 years, while oil imports were 7.6 million barrels per day."
"The discount of WTI crude oil spot prices to Brent crude oil has widened from just over $3 a barrel in July to $9 in October, as refinery demand has returned to normal, lower seasonal demand levels, and U.S. crude inventories have begun to grow at the Cushing, Oklahoma, storage hub. EIA forecasts that growing non-OPEC crude production will continue to outpace refinery demand, leading to an average WTI discount to Brent of $10 per barrel in the fourth quarter of 2013 and $8 per barrel in 2014."
"After averaging nearly $103 per barrel for three consecutive months from April to June, Brent crude oil prices increased to around $110 per barrel from July through October as a result of strong U.S. refinery demand and supply disruptions in the Middle East. EIA expects that growing non-OPEC crude oil production will help drive Brent crude oil prices lower."
Natural Gas:
"EIA boosted its forecast for U.S. marketed natural gas production by 0.4% this year and nearly 1% for next year, as domestic natural gas output reached record levels during the past several months despite lower gas prices. Gas from the Marcellus Shale has been the main driver of this production growth. This month's forecast lowers U.S. natural gas imports by pipeline, mostly from Canada, as domestic gas production increases."
Electricity: "Electricity generation from renewable energy sources other than hydropower currently accounts for about 6% of total U.S. generation, but renewables play a bigger role in some states."
"California has experienced strong growth in the use of renewable energy by the power sector. During the first eight months of 2013, renewable energy, including hydropower, supplied 19.1% of total electricity generation in California compared with 12.2% during the same period five years ago. Development of new renewable energy generating capacity has been encouraged by a combination of an aggressive state renewable portfolio standard, continued federal tax credits, and the implementation of a state greenhouse gas emissions cap-and-trade program."
Click here to read the full Short-Term Energy Outlook report.