According to a new survey by the National Association of Convenience Stores (NACS), consumers like 'green' car options as long as green means money. Consumers want to see more alternative-fueled vehicles emerge over the next decade, and are willing to consider purchasing one of these vehicles.
Three in five (62%) consumers want to see more hybrid-electric vehicles over the next decade, two in five (43%) want to see more battery electric vehicles and one in three want to see more fuel cell (34%), natural gas, (31%) or flex fuel vehicles (30%), according to the nationwide survey conducted in partnership with Penn, Schoen and Berland Associates LLC.
Consumers don't simply want to see more alternative-fueled vehicle options — they are quite willing to consider buying them within the decade. Three in four (74%) would consider buying a hybrid electric, and three in five would consider purchasing a flex fuel (62%), fuel cell (58%) or battery electric vehicle (58%). Half of consumers would consider a natural gas powered vehicle (53%).
A relatively small 38% of all consumers would consider buying a diesel fuel-powered vehicle over the next decade. However, consumer willingness to consider diesel vehicles has significantly increase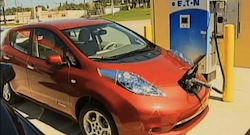 d since May 2013. Only 31 percent of consumers who plan to purchase a vehicle in the next two years said that they would consider a diesel vehicle in May, whereas 50 percent of those consumers today are likely to consider a diesel vehicle.
Interestingly, consumers who say they are open to purchasing these "green" vehicles are heavily motivated by an economic incentive. Two in three consumers say the switch to an alternative fuel would be driven primarily by economic enticements, rather than environmentalism. Economic factors such as increased fuel efficiency or tax breaks are more important than environmental factors for those considering diesel, flex fuel, hybrid electric, propane, fuel cell, natural gas and battery electric vehicles (79%, 75%, 73%, 71%, 68%, 67%, 65%, respectively).
"This consumer survey reinforces what we have long thought: consumers are willing to embrace new fuels and vehicles but it must make sense for them financially," said NACS Vice President of Government Relations John Eichberger. "Consumers are just as wary as fuels retailers about moving toward future fuels if they don't have financial certainty."
Next week, the Fuels Institute, of which NACS is a founding organization, will release "Tomorrow's Vehicles," a report looking at the vehicle market in 2023. In addition, every month, NACS conducts a nationwide survey to measure consumer perceptions about gas prices and how they relate to broader economic conditions. Earlier this week, NACS released its latest consumer sentiment survey that found that recent gas price decreases have helped lead to an increase in consumer optimism.