Yingli Solar has announced a milestone in its work with Federation Internationale de Football Association's (FIFA) Football for Hope program. The 16th center has been officially inaugurated in Alexandra, South Africa. To honor the occasion, Deputy Minister of Sport and Recreation, Mr. Gert Oosthuizen, FIFA's General Secretary, Mr. Jerome Valcke, representatives of the non-profit organization Grassroot Soccer (GRS), the South African Football Association (SAFA) and Yingli Green Energy (the parent company of Yingli Solar) jointly addressed the media.
The FIFA "20 Centres for 2010" campaign, which was launched as part of the 2010 FIFA World Cup official corporate social responsibility program "Football for Hope," is nearing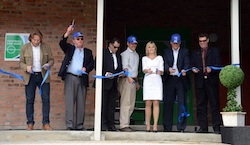 completion. Alongside FIFA, Yingli Green Energy, an Official Sponsor of the FIFA World Cup and one of the world's largest PV module manufacturer, utilized its expertise in renewable energy to provide solutions for this campaign to assist FIFA in improving the social environment for children in Africa with solar power. For the centre in Alexandra, Yingli Green Energy provided PV modules for the solar street lighting system.
"I would like to thank Yingli Green Energy for their contributions in our social campaign '20 Centres for 2010′ and the installation of the solar panels that are crucial for the sustainability of the Centres," said Mr. Jerome Valcke, General Secretary of FIFA.
Yingli Green Energy has equipped all centers with a total of 258 pieces of PV modules with a supply capacity of 23 kilowatt peak. Each center was able to choose between a variety of photovoltaic systems such as a solar-powered lighting system for the playing field, a water pump including water reservoir or a photovoltaic power supply system. Since the launch of the campaign, 16 centers have been built across the African continent and four remaining centers pending by the end of the year or in 2014.
FIFA has closely and constantly collaborated with the communities where the center had been built, in order to ensure that the new infrastructure would meet the local needs. Each Football for Hope center consists of a playing field for football and a building where educational projects take place and football is viewed as an instrument for promoting motivation and dialog within the community.
"We are happy to bring light and hope to the children in Africa," said Judy Tzeng Lee, Vice President of Global Marketing at Yingli Green Energy. "Even though the project is coming to an end, the Centres will keep on supporting young people for many years. We look forward to continuing our partnership with FIFA in creating a more sustainable future through our expertise in renewable energy products and our passion for football."