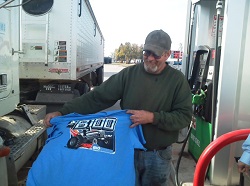 Minnesota gets its first biodiesel blender pumps with some help from the Minnesota Soybean Research & Promotion Council (MSR&PC). Staples Enterprises in Heron Lake has the pumps offering up to 20 percent biodiesel blends.
"The store and the blender pumps have actually been in operation since January and we're promoting biodiesel now during our fall celebration," said Daric Zimmerman, Retail Marketing Director for Staples Enterprises. "With these pumps, we now carry up to five blends of biodiesel here at our Heron Lake store."
Biodiesel, made primarily from the oil of Minnesota-grown soybeans, has been successfully added to every gallon of diesel sold in the state. Biodiesel is the only domestically produced, commercially available fuel that meets the criteria of an advanced biofuel. Biodiesel can be used in existing engines and fuel injection equipment in blends up to 20 percent with no modifications.
According to Zimmerman, it was important for Staples Enterprises to continue their support of the local markets in which they operate. "We felt that the installation of these blender pumps helped further show our commitment to the area and the local producers."
Officials point out that the pumps gives customers more choices in their fuel options.