Nine new propane conversion centers have joined the Alliance AutoGas, a U.S. distributor of PRINS autogas technologies. New members include:
Benna Ford, Superior, Wisconsin
R. Anthony Enterprises, Marion, Ohio
MRT Manufacturing, Forest Hills, Virgina
NAEU North American Upfitters, Hooksett, New Hampshire
Northside Auto & Truck Service Watertown, Wisconsin
Clean Car Conversions, Indianapolis, Indiana
NTC Delta Transportation, Greenville, Mississippi
Gary Sapp Automotive, Pensacola, Florida
Sherwood Ford of Salisbury, Salisbury, Maryland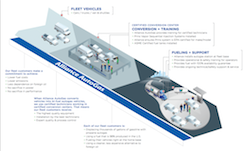 Alliance AutoGas coordinates propane autogas vehicle conversions, installs refueling infrastructure and provides ongoing vehicle maintenance support and training, through a network of more than 90 member companies and conversion centers throughout North America.
"It is of the highest importance that Alliance AutoGas provides a quality support network and keep the vehicles running on the road," said Stuart Weidie, president of Alliance AutoGas.
Brendan Dunican, sales representative of North American Equipment Upfitters, Inc., added, "The Alliance AutoGas Group is important because it brings together businesses that have common goals and interests in the green initiative (that would normally have no interaction). We (NAEU) working as a conversion center are diversifying our business while maintaining a sense of environmental responsibility. Cleaner gas makes for a cleaner world and future."
And Northside Auto and Truck Service's John Mason, president, said they joined because, "Our fleet managers tell us that domestically produced, clean propane that is easier on their pocketbooks are important to them. We are pleased to be a part of the Alliance AutoGas network, enabling our fleets to meet their expectations,"