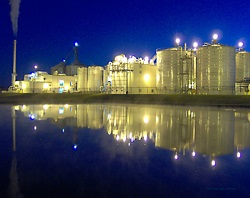 Adkins Energy LLC will add a corn oil biodiesel plant to its Lena, Ill. ethanol operation. This article in BioFuels Journal says the company will get some help in the form of a $500,000 Rural Energy for America Program (REAP) grant to start building the $4.5 million, 2-million-gallon biodiesel plant expected to start operating next spring.
"We are excited to add biodiesel to our product offerings and thankful that the USDA sees the value in this project," said Adkins Energy General Manager Ray Baker.
"This project is another example of how the Renewable Fuel Standard (RFS) is working for Americans; it is encouraging continued investment in advanced bio-refineries and creating new jobs which are helping to revitalize rural communities like ours."
Adkins Ethanol currently produces about 1.5 million gallons of distillers corn oil a year, which is sold either into the biodiesel production market or as a supplement to the animal feed market.
Adkins will use this feedstock to produce the biodiesel in its facility, a process which will be fully integrated into existing ethanol operations, creating significant operating efficiencies in the production of biodiesel.
WB Services of Kansas will partner with Adkins for this first-of-its-kind integrative project.