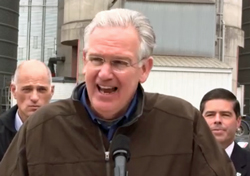 With the harvest nearing completion in Missouri, Governor Jay Nixon last week joined the Missouri Corn Growers Association at a grain elevator in the northeast part of the state to support the state's corn growers and ethanol industry.
"Each year about 20% of Missouri's corn crop is turned into about 300 million gallons of ethanol – a renewable, domestic energy source that fuels vehicles worldwide," said Nixon during the event at the recently-expanded Archer Daniels Midland (ADM) facility. "Last year Missouri's ethanol plants accounted for $829 million of increased economic activity in the state, including about 1500 jobs."
Despite action in the state legislature last month that rejected a rule change to allow sales of E15 (15% ethanol fuel), Governor Nixon indicated his administration will continue to work on that issue. "We're going to keep supporting fuels from the farm and work to get Missouri drivers more choices at the pump through safe and sensible options like E15," said Nixon.
Listen to the governor's remarks here: Missouri Governor Jay Nixon