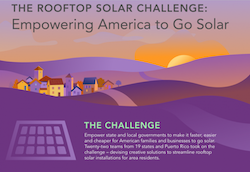 The U.S. Department of Energy (DOE) has announced eight teams that have been selected to participate in the Rooftop Solar Challenge. The teams will receive a combined $12 million, matched by more than $4 million in outside funding. The groups are tasked with moving the solar rooftop industry forward through cutting the red tape surrounding residential and small commercial solar rooftop projects. The teams will work to streamline and standardize solar permitting, zoning, metering and connection processes.
"Responsible development of all of America's rich energy resources is an important part of President Obama's Climate Action Plan and will help ensure America's continued leadership in clean energy," said Energy Secretary Ernest Moniz. "Today, solar modules cost about one percent of what they did 35 years ago, and permitting and interconnection are an increasingly large portion of overall solar system costs. Through the Rooftop Solar Challenge, the Energy Department is helping to make the deployment of solar power in communities across the country faster, easier and cheaper – saving money and time for local governments, homeowners and businesses."
The Energy Department's Rooftop Solar Challenge is a part of a larger effort to make solar energy more accessible and affordable and position the U.S. as a leader in the quickly growing global solar market. Non-hardware, or "soft," costs like permitting, installation, design and maintenance now account for more than 60 percent of the total cost of installed rooftop photovoltaic (PV) systems in the United States. Across the nation, there are more than 18,000 local jurisdictions with their own PV permitting requirements as well as more than 5,000 utilities that set rules for connecting to the power grid.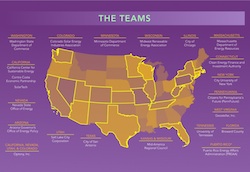 The Rooftop Solar Challenge brings together city, county and state officials, regulatory entities, private industry, universities, local utilities and other regional stakeholders to address differing and expensive processes required to install and finance residential and small business solar systems. During the Challenge's first round, 22 regional teams worked to dramatically reduce the soft costs of solar – serving as models for other communities across the country. These efforts helped cut permitting time by 40 percent and reduce fees by over 10 percent – making it faster and easier for more than 47 million Americans to install solar.
Building on the Challenge's first round, the eight teams announced for the next phase will help further expand the reach of innovative strategies that are making it easier, faster and cheaper for more homeowners and businesses to finance and install solar systems. These awardees will develop and replicate creative solutions that help standardize complicated permitting and interconnection processes that often vary from jurisdiction to jurisdiction; facilitate easy, cheaper bulk purchasing; and support user-friendly, fast online applications. See a full list of the Rooftop Solar Challenge teams and their projects.