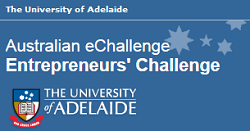 A plan to turn waste grease into biodiesel wins a prize from Down Under. Impress Media Australia reports Energy from Waste Pty Ltd., with members Lisa Chao, Philip Curran, Dr David Rutley, Brian O'Neil and Ted McMurchie, picked up first place in the 2013 University of Adelaide Entrepreneurship, Commercialisation and Innovation Centre (ECIC) Australian eChallenge, and the group will travel to Austin, Texas to compete in the Global Venture Labs Investment Competition.
Energy from Waste's winning business plan outlines how it will design, construct, commission and operate biodiesel production plants at major waste processing companies that currently collect and dispose of grease-trap waste, eliminating their disposal costs and creating a new revenue stream.
Professor Noel Lindsay, ECIC Director, says Energy from Waste was awarded first prize because the team delivered a proficient business plan that could result in positive outcomes for both local businesses and the environment.
"The Australian eChallenge is growing in popularity each year, with 35 highly creative and innovative teams competing in this year's competition," Professor Lindsay says.
"Energy from Waste was selected because the team's business plan is thorough and professional. The team's proposal clearly outlines an opportunity to reduce the cost of waste processing and decrease its impact on the environment."
The group also won the $10,000 Adelaide Airport Clean Tech Award and could end up winning more than $50,000 in prizes.