SunPower Corp. has announced that it has acquired Greenbotics, Inc., a Davis, Calif.-based company that offers panel cleaning products and services for large-scale solar power plants. With this acquisition, SunPower expands its energy services portfolio for global customers with the SunPower Oasis Power Plant product, especially, says SunPower, in markets with challenging dirt and dust environments. SunPower expects to utilize the robotic technology and the Greenbotics team in conjunction with other product development and large-scale solar field installation projects.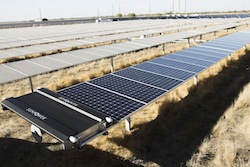 Greenbotics' business model is focused on optimizing the performance of solar power plants through a cost-effective cleaning process. For the past two years, the company has used its proprietary CleanFleet robots and service offerings to wash hundreds of megawatts of systems in the Southwest and Western U.S. The robots can be configured for use with a variety of solar panels and mounting types, including fixed-tilt arrays and single-axis trackers and offer a less costly and greener alternative to manual cleaning methods, pressure washers and sprayer trucks. The robots use under a half a cup of water to clean each panel, which is approximately 90 percent less than traditional cleaning methods, making this is viable optimum for solar systems built in desert conditions.
"SunPower's acquisition of Greenbotics and its CleanFleet robots will allow us to further maximize the proven system performance of our high efficiency, most reliable solar panels, which is critical to a project's economics and levelized cost of electricity," said Tom Werner, SunPower president and CEO. "Customers in markets such as the Western U.S., the Middle East and Chile will especially benefit, as dust and debris is a challenge and water is in shorter supply. We are very pleased to add the valuable services offered by Greenbotics to our energy services offerings."
The CleanFleet robots can be tailored specifically for each power plant to optimize a project's cleaning schedule. Most panels are cleaned at night to avoid disruption during the daytime, energy-producing hours. Regularly cleaning solar panels located in dry, dusty regions can increase annual energy production by up to 15 percent.