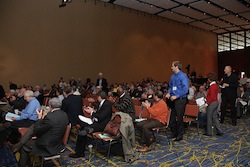 The Iowa Renewable Fuels Association (IRFA) has announced the start of registration for the 8th Annual Iowa Renewable Fuels Summit and Trade Show. The Summit is free, open to the public, and will be held January 28, 2014 at The Meadows Conference Center at Prairie Meadows in Altoona, Iowa.
With discussion over renewable fuels policy at fever pitch, the 2014 Iowa Renewable Fuels Summit will discuss state and national issues facing the renewable fuels industry, including the future of the federal Renewable Fuel Standard (RFS), biofuels' impact on future engine technology, and emerging markets for cellulosic ethanol, E15, and biodiesel. Featured speakers will be announced leading up to the Summit.
"The Renewable Fuels Summit is Iowa's premier renewable fuels event bringing together industry leaders, decision makers and the general public to shape Iowa's energy future," said IRFA Executive Director Monte Shaw. "This event provides a great opportunity to hear experts address state and national issues facing the future of renewable fuels, as well as network with biofuels professionals and business leaders throughout the Midwest."
Click here to register for the Summit and learn about sponsorship and trade show opportunities.