The 139 MW Campo Verde Solar Facility has begun operations in Imperial County, California. The project, acquired by Southern Power, a subsidiary of Southern Company, in partnership with Turner Renewable Energy, consists of nearly 2.3 million thin-film modules and is expected to generate enough electricity to power nearly 48,000 homes.
"Southern Company is building for America's energy future – and solar is an important part of our continued effort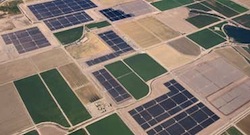 to provide clean, safe, reliable and affordable power," said Southern Company Chairman, President and CEO Thomas A. Fanning. "Completing the Campo Verde Solar Facility helps us strategically incorporate more renewables into our diverse energy portfolio."
The plant, located on nearly 1,400 acres, was built and is operated and maintained by First Solar, a leading global provider of comprehensive PV solar systems. The PV modules use First Solar's patented thin-film technology and employ a fixed-tilt design.
Ted Turner, owner of Turner Renewable Energy, teamed with Southern Company through a subsidiary in January 2010 to form a strategic alliance to pursue the development of renewable energy projects in the United States. The partnership has primarily focused on acquiring solar PV projects where solar resources are most favorable.
In April 2013, the Campo Verde Solar Facility became the fifth project jointly acquired by Southern Power and Turner Renewable Energy. Including this facility, the partnership has acquired more than 220 MW of solar generation in four states.