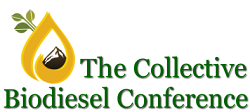 A North Carolina biodiesel maker will host next year's conference for biodiesel producers from home brewers to grease collectors to multi-million gallon producers. Biodiesel Magazine reports the 2014 Collective Biodiesel Conference, Aug. 14-17, will be at Piedmont Biofuels in Pittsboro, N.C.
"We are delighted to have been chosen as the 2014 host site," said Lyle Estill, Piedmont founder and president. "For grassroots biodiesel, winning the bid for this conference is like winning a bid for the Olympics."
"I've always been a fan of the Collective Biodiesel Conference," said Andy McMahan, Central Carolina Community College biofuels program coordinator, who has attended past conferences in Colorado and Washington, D.C., and who will be co-chairing the 2014 conference. With its Natural Chef Program, green roof, wastewater recycling and building performance systems, not to mention its biofuels production facility and laboratory classrooms capable of providing hands-on biodiesel analytics, Central Carolina Community College is an ideal co-host for next year's CBC.
"We look forward to working with Piedmont as they gear up to host the 2014 conference and are excited to be bringing the conference to the East Coast," said Graydon Blair of the CBC board and owner of Utah Biodiesel Supply.
This year's conference was held in Breckinridge, Colo., hosted by Summit Greasecycling, and Calif.-based Promethean Biofuels hosted the event in 2012.