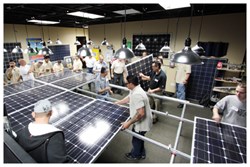 Ambassador Energy has expanded its solar training programs both for companies and individuals seeking to learn more about the solar industry. The company is offering both classroom and online courses including North American Board of Certified Energy Practitioners certified courses (NABCEP EL), in its Southern California Training Facility.
Director of Training, Catherine Kelso, facilitates the training program and is herself NABCEP certified in both PV Installation and PV Technical Sales. "Solar jobs are abundant," she said, "but the good ones require a unique skill set. NABCEP is the gold standard in solar. I call NABCEP certifications 'job insurance'."
The next 32-hour course required to be completed before the participant is able to take the NABCEP EL test is scheduled for January 13-17, 2014 in the AE training center in Murrieta, California.
The 2014 Solar PV training calendar includes:
NABCEP Entry Level – Solar PV Design and Installation 32-hour course and NABCEP Entry Level exam
Prep courses for NABCEP PV Technical Sales and PV Installer
Advanced PV Design and Installation [qualifying for NABCEP continuing education credits]
AE's proprietary New Agency Boot Camp
Solar for Electricians
Solar for Contractors
Click here for more information on the solar training courses.