The Senate version of the farm bill includes $800 million in mandatory funding for energy programs while the House version contains zero – one of the relatively minor differences in the two bills that could get resolved quickly in conference.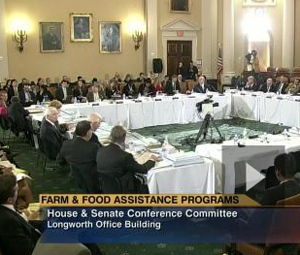 Several senators spoke in support of providing mandatory funding for the energy title during the first meeting of the House Senate Conference Committee on Wednesday. "This title helps our country be more energy independent," said Sen. Debbie Stabenow (D-MI). "This is a win-win-win for rural communities and America's future."
Sen. Amy Kobuchar (D-MN) said she strongly supports funding for the energy provisions "including expanding home-grown renewable energy" noting that biofuels now account for ten percent of the nation's fuel supply.
Rep. Tim Walz (D-MN) urged his colleagues on the House side to support the senate version for the sake of jobs at home. "We spend over a billion dollars a day importing oil from countries that hate us – they'll hate us for free," he said. "Get some mandatory funding for this. It will come back to us economically, it will come back to us in jobs, and it will come back to us in national security."
The Senate energy title includes increased funding for the Rural Energy for America Program (REAP), Biorefinery Assistance, Biomass Crop Assistance Program (BCAP) and Biomass Research and Development.