A "Dear Colleague" letter is being circulated by Representative Bob Goodlatte (R-VA) with dozens of signatures calling for the Environmental Protection Agency's Administrator Gina McCarthy to reduce the 2014 Renewable Fuel Standard (RFS) blending requirements.
In the letter that energy.agwired.com obtained, Goodlatte writes:
"Last month, EPA conceded that the Renewable Fuel Standard (RFS) will soon require more ethanol be blended into gasoline than can be safely blended into gasoline. Given this reality, we must urge the EPA to adjust the normally rigid RFS to recognize market conditions and realities.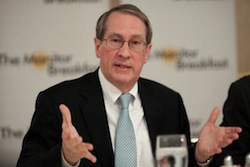 The RFS mandates that 36 billion gallons of renewable fuels be used in our nation's fuel supply by 2020, with as much as 15 billion gallons of the mandate being fulfilled by corn ethanol. In 2014, the mandate is estimated to be 18.15 gallons of renewable fuel of which approximately 14.4 billion gallons will be made up by corn ethanol. The government has one tool that can provide immediate relief from the RFS. The law gives the Administrator of the EPA flexibility to reduce the required volume of renewable fuels in any year. While the EPA has consistently refused to use this authority, the supply realities should be the impetus for long awaited action by the EPA when setting volume levels for 2014.  Prompt action by the EPA can help to ease short supply concerns, prevent engine damage, save jobs across many U.S. industries, and keep families fed.  Now is the time to use this authority to reduce the RFS.
We urge you to join with us in sending this letter to EPA urging relief from the RFS. If you wish to sign on to the enclosed letter, please contact Carrie Meadows with Mr. Goodlatte, Donald Grady with Mr. Costa, Chris Huffaker with Mr. Womack, or Jake Oster with Mr. Welch.
The ethanol industry fired back against the letter to the EPA with Bob Dinneen, CEO and president of the Renewable Fuels Association (RFA) responded, "The oil industry is expending a lot of resources to create anxiety over the Renewable Fuel Standard, which in fact has been extremely successful. We are confident that when all the facts are assessed, the efficacy of the RFS will be affirmed. Americans want to decrease our reliance on petroleum. Americans need relief at the pump. This policy is generating jobs and stimulating investment in the new energy technology that will drive our future. Now is simply not the time to roll back the RFS."
RFA is not the only association with heartburn over the ongoing heated debate surrounding the RFS. Tom Buis CEO of Growth Energy said, "It appears that the 'cheap corn caucus' is back at it again, looking for ways to get below the cost of production corn at the expense of American  farmers, American energy security, consumer choice and savings at the pump."
"Despite false claims that biofuels are increasing the cost of corn, those who signed this letter failed to review the facts and recognize that just yesterday corn was trading at a 37 month low," Buis continued. He noted that  food conglomerates have enjoyed increased profit margins thanks to rising retail prices that are outpacing farm costs. He also pointed out that during the 2012 drought, the farm value of chicken increased about $0.02 per pound compared to 2011. Buis also said that ethanol is significantly cheaper than gasoline."
"Furthermore," continued Buis, "this letter is filled with inaccurate information." He concluded, "Finally, the signatories of this letter seem to suggest that our nation should continue our addiction to foreign oil. Renewable fuels reduce our dependence on foreign oil, strengthening both our national and energy security, while creating jobs that cannot be outsourced and improving our environment, all while providing consumers a choice and savings at the pump."