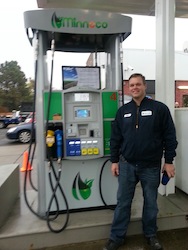 Minnesota welcomed its first E15 station with open arms this week. The Penn Minnoco service station in Minneapolis now has four dispensers selling E15 to drivers of vehicle model year 2001 or newer. The Penn Minnoco service station is located at 6001 Penn Avenue South in Minneapolis.
When asked by DomesticFuel why E15, station owner Rick Bohnen, who is also offering E30 said, "E15 gives my customers a price break while providing me with a competitive advantage." Bohnen's family has owned the fuel and repair station for more than 30 years and he has been telling his customers to use E15 because in his words, "ethanol is great fuel".
The fueling equipment of the new Penn Minnoco service station was made possible, in part, through a public-private partnership between Bohnen and a coalition comprised of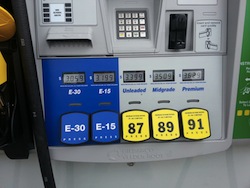 the American Lung Association in Minnesota, Minnesota Department of Agriculture, Growth Energy, Minnesota Biofuels Association and the Minnesota Corn Growers Association/Minnesota Corn Research & Promotion Council.
"Today is a great day for Minneapolis area consumers looking for more affordable fuel choices that are better for the economy and the environment. E15 is a proven fuel, a cheaper fuel, a cleaner fuel, and I know that it will be a major success for Penn Minnoco and its customers," said Tom Buis, CEO of Growth Energy.
As part of the partnership, four additional retail locations are planned to begin offering E15 within the state by the end of the year.