The Outdoor Power Equipment Institute (OPEI) recently announced their new national ethanol education and consumer protection campaign, called 'Look Before You Pump'. OPEI said the campaign cautions consumers against the use of E15 or higher ethanol blends in outdoor power equipment such as mowers, chain saws, snow throwers, generators and other small engine products.
E15 was approved by the Environmental Protection Agency (EPA) for use for vehicles and light duty trucks manufactured in 2001 or newer and was not approved by the EPA for use in small engines or other vehicles. In addition, stations that sell E15 must be EPA-approved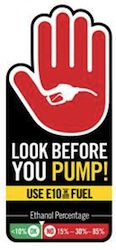 and show the orange E15 label educating consumers about proper fuel use. Yet regardless of all the measures put into place by the EPA and all fuel retailers, organizations such as OPEI have insisted consumers are not smart enough to read labels and choose the appropriate fuel at the pump.
According to a recent OPEI/Harris Interactive study, the vast majority of Americans (71 percent) are "not at all sure" if it is illegal or legal to put high level ethanol gas (i.e., anything higher than 10 percent ethanol) into engines such as those in boats, mowers, chain saws, snow mobiles, generators and other engine products. However other E15 studies have shown that since E15 has been introduced into the fuel supply, no retailers have received any complaints.
"Although there is continued uncertainty in the renewable fuels market, one thing for certain is that the way consumers select and use fuel will be changing in the coming years," said Kris Kiser, President and CEO of OPEI. "It is incumbent upon our industry to be proactive. We are cautioning American consumers and business owners whose livelihood depends on our equipment to be more mindful at the gas pump. Don't assume that the gas you put in your car can still go in your mower, chain saw or generator."
OPEI says its number one goal is to protect its consumers ad urges them to read their equipment operating manual before filling with gasoline to ensure they use the right fuel for that engine.