GO Riteway has purchased 10 new Blue Bird Propane-Powered Vision school buses and 10 Micro Bird buses for Oak Creek-Franklin Joint School District. The company, which transports 5,500 Oak Creek students each day, said they now offer an environmentally friendly bus ride that lowers fuel costs for the community.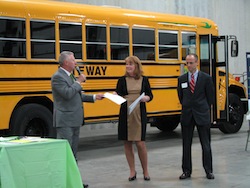 "Congratulations to the citizens of Oak Creek, who will benefit from cleaner air and lower fuel costs with this safe and reliable alternative fuel in their school buses," said Ron Bast, president of GO Riteway, during an open house at their Oak Creek facility. "Over their lifetime, these school buses will release 1.6 million fewer pounds of carbon dioxide emissions in your community."
The open house attracted many local officials, including Dr. Sara Burmeister, Oak Creek's school superintendent, and Steven Kurkowski, alderman for Oak Creek. A fueling demonstration allowed participants to learn firsthand the ease and quick speed of refueling a school bus with propane autogas.
"School districts around the nation are eager for cleaner, lower emissions solutions that also work with their budgets. The Blue Bird Propane-Powered Vision and Micro Bird meet these needs, with lower fuel and maintenance costs, decreased noise, and environmental benefits," said Phil Horlock, president and CEO of Blue Bird Corporation. "Blue Bird's propane-powered buses are a smart choice for any contractor or school district."
The 78-passenger Blue Bird Propane-Powered Visions and 30-passenger Micro Bird buses meet all applicable School Bus Federal Motor Vehicle Safety standards, and Environmental Protection Agency and California Air Resources Board certifications, and uses the latest advancements in alternative fuel technology, including the ROUSH CleanTech liquid propane autogas fuel system and the Ford 6.8-liter engine.