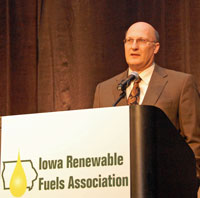 As we recently recognized the 40th anniversary of the Arab Oil Embargo, which back then, showed how vulnerable the U.S. was working under foreign petroleum, one of the leaders at the nation's biodiesel leader says his industry's green fuel is a pathway to break the Big Oil monopoly. In this piece for the political blog, The Hill.com, Renewable Energy Group (REG) Vice president Gary Haer says biodiesel has grown from just a small, novelty fuel to a billion-gallon-a-year viable alternative to petroleum, foreign and domestic.
Following the aggressive act by Arab members of the Organization of the Petroleum Exporting Countries (OPEC) to terminate exports to the West, Americans saw their gasoline prices soar fourfold setting off a decade-long recession. U.S. military involvement in Middle Eastern conflicts escalated consistently over the four decades that followed. These include the Iran Hostage Crisis, three full-scale wars in Iraq and Afghanistan, the current showdown with Syria over chemical weapons and nuclear weapons showdown with Iran.
Today the aforementioned national security experts and their supporters lead the U.S. Energy Security Council (USESC), an organization that is scathing in their conclusions of how the combination of current U.S. oil dependency and a lack of diversity in transportation fuels choices are affecting both our economy and our national security:
"Oil's strategic importance stems from its virtual monopoly as a transportation fuel. Today, 97 percent of transportation fuel is petroleum based. During the past four decades since the Arab Oil Embargo the policy consensus has been that if we only increased our domestic production of oil and/or learned how to use less of it we would be energy secure."
"What is needed is a competitive transportation fuel market in which a variety of energy commodities can vie with petroleum for market share. As long as the vehicles rolling onto our roads can essentially run on nothing but oil based fuels, and consumers are thus thwarted from making an on-the-fly choice among different fuels, America will remain susceptible to oil price hikes emanating from the Middle East to the detriment of our economy and national security – no matter how little oil we import from that region."
Haer goes on to point out that as long as our only fuel choice is petroleum, we won't see an effective drop in prices. Biodiesel is another choice.
But don't take my word for it. Listen to any of the stewards of our national security interests since President Richard Nixon, at the height of the embargo, initially considered seizing Middle Eastern oil fields. For instance, President Ronald Reagan's former National Security Adviser, Robert McFarlane:
"It is past time to recalibrate our national thinking on oil to a more accurate problem definition and thus reduce the strategic importance of oil with its attendant national security implications, and reduce the Nation's vulnerability to oil price shocks."