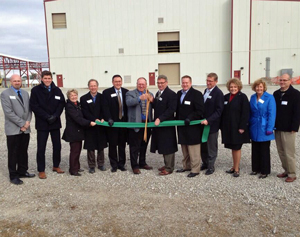 Renewable Energy Group today formally opened the company's recently acquired biodiesel refinery in Mason City, Iowa. The biodiesel company also announced the start of a $20 million project to upgrade the plant to a multi-feedstock facility.
REG completed the acquisition of the former Soy Energy, LLC refinery on July 31, 2013. REG immediately began efforts to repair and re-start the plant and began producing biodiesel on October 1.
"REG Mason City fits into our existing network of biodiesel plants very well and is an ideal location to bring in raw materials for biodiesel production, is a good distribution point, and is sited well to serve our customers and terminals," said Daniel J. Oh, President and CEO of Renewable Energy Group, Inc. "As we continue to grow as a company and an industry, we are dedicated to our communities like Mason City, and providing America with advanced biofuel."
Brad Albin, REG Vice President, Manufacturing told the crowd about the upgrades the company will make. "With these upgrades, we will be able to utilize lower cost raw materials like inedible corn oil from ethanol production, used cooking oil and animal fats, with the majority coming from a close proximity to Mason City," Albin said. "This will give REG Mason City the ability to deliver the highest quality product available, in line with the REG quality standards."
REG now has eight active biorefineries in four states, with Mason City being the company's third Iowa facility, joining the company's first refinery in Ralston and a plant in Newton. The company also has a multi-feedstock biorefinery in nearby Albert Lea, Minnesota, where a $21 million multi-feedstock upgrade was just recently completed. REG also has two refineries in both Illinois and Texas respectively. The REG-owned biodiesel production fleet has an annual production capacity of 257 million gallons.