EnergyVaasa, the largest energy cluster in the Nordic countries, recently chose 25 year old engineering student Pentti Itkonen as their Energy Ambassador. In a press conference held at Citec's premises at Navi Mumbai, India, it was announced that Itkonen will embark on a global tour, beginning in Kittilä in Northern Finland to Norway, USA, Ecuador, Brazil, Spain, Thailand and India. Pentii will spend a week at each of the chosen countries and meet and hope to influence key stakeholders of renewable and green technologies.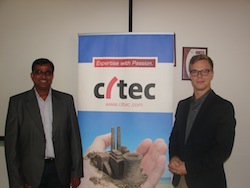 In this journey, Pentii Itkonen could experience a project where experts from many countries work together to come up with the best solutions to the customer's needs. Thus, Itkonen became more acquainted with one of Waste-to-Energy power plant projects designed by Citec, a company that provides multi-discipline engineering and information management services to the Energy and Power industry, and other technology-dependent industries. In this project, the customer is from Switzerland and the plant is built in the UK.
Pentti Itkonen said, "It's amazing to be in Incredible India, I have to admit that this has probably been the destination I've been looking forward to the most. The people at Mumbai office have welcomed me with fascinating Hindu ceremonies and I was honoured to start off my week like that. It was interesting to discover how Citec is working globally and specially the Indian operations. We also discussed over a certain waste-to-energy project."
One of the highlights of Itkonen's visit was when Mr. Alexander Stubb, Finland's Minister for European Affairs and Foreign Trade met with Citec's senior management – Mr. Martin Strand, CEO, Mr, Nasir Mulani, Managing Director India, Mr Arun Tyagarajan, Director Citec India and the Energy Ambassador in Mumbai.
"In an agro-based country like India, Bio-power has a growing demand. Nevertheless, solar and wind power are also areas where the future is heading towards. Citec is also working on such projects. Aiming for a cleaner environment, we are proud to support the Energy Ambassador campaign," said Mulani.
In addition to his exposure to Citec as a global company and its energy business in India, the Energy Ambassador also received insight into other aspects of India.