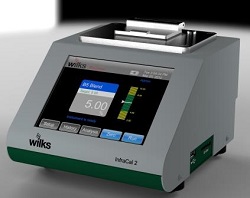 A new analyzer will give biodiesel producers more and better features for the industry. This piece from Biodiesel Magazine talks about the new InfraCal 2 Analyzer, recently introduced by Wilks, that provides better repeatability, multiple calibrations, unlimited data storage, optional internal battery pack, touch screen display and password protection for instrument settings for biodiesel in diesel measurements.
The InfraCal 2 incorporates new electronics providing a better signal-to-noise ratio that improves the stability and repeatability. The calibration scheme makes it easier to get an accurate zero, which contributes to more repeatable readings. The analyzer's multiple calibration capability enables users to have calibrations for numerous types of diesel fuel, making measurements even more accurate on different feedstocks.
The InfraCal 2 Analyzer provides a virtually unlimited amount of internal data storage. For users testing fuels at different locations or at a remote loading rack, data can periodically be transferred serially or via a flash drive. The internal battery pack will last up to 12 hours bringing portability to a new level and eliminating the need to ship samples to a laboratory and wait for results.
User will also find the touch screen on the InfraCal 2 allows them to password-protect calibrations and instrument settings, and they will be able to tag each measurement with information about the analyst, location, date and time of the measurement.