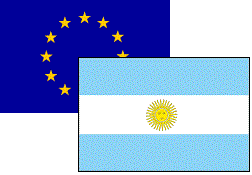 The European Union's anti-subsidy probe over some foreign biodiesel is ending. Reuters reports the original complaint from the European Biodiesel Board (EBB) about unfair subsidizing of biodiesel imports from Argentina and Indonesia is being dropped.
"In accordance with article 14 (1) of the basic regulation the proceeding may be terminated where the complaint is withdrawn, unless such termination may not be in the Union's interest," the document said.
This is a separate procedure from a proposal from the European Commission to extend anti-dumping duties against imports of biodiesel from Argentina and Indonesia, accused of selling the product into the bloc at unfairly low prices.
Argentina is the world's biggest supplier of the fuel.
The EU had been the biggest buyer of Argentine biodiesel until last year, when sales began to tumble over dumping accusations, which have been denied by Argentina.
Argentina's foreign ministry issued a statement saying it felt "unease" about the continued inquiry into possible dumping.
It said there are no grounds for the inquiry and that a threatened increase in duties imposed by the EU would "exclude Argentina from the European market."
Argentine biodiesel industry officials say the anti-dumping taxes set for November will still keep the South American country's green fuel out of Europe.