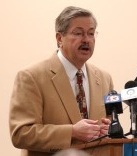 Officials in Iowa are looking to up the choices consumers will have when filling up with ethanol and biodiesel. Gov. Terry Branstad announced a new public-private partnership called "Fueling Our Future" that will use state dollars to leverage investments in existing renewable fuel infrastructure to establish more blender pumps containing E-30 and biodiesel at gas retailers around the state.
"This pilot program will provide Iowans with additional access to higher blends of ethanol and biodiesel, which will help our farmers, communities and economy in producing, processing and profiting locally," said Branstad.
The Fueling Our Future program will be supported by the Department of Agriculture and Land Stewardship, the Department of Transportation, Iowa State University and the Iowa Renewable Fuels Infrastructure Board.
The announcement was welcomed by the Iowa Renewable Fuels Association: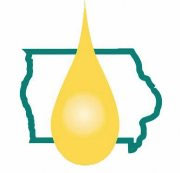 "Iowa leads the nation in renewable fuels production, and has led in developing markets for E10, E15, E85 and biodiesel over the last 30 years," stated IRFA Executive Director Monte Shaw. "But never one to sit still, Governor Branstad is already looking down the road to the next five to ten years. I want to thank Gov. Branstad and his team for the new 'Fueling Our Future' program that will continue to build on the successes this state has had in renewable fuels, and will position Iowa to lead the way in E30 and biodiesel availability."
More information on the state's Renewable Fuels Infrastructure Program can be found here.