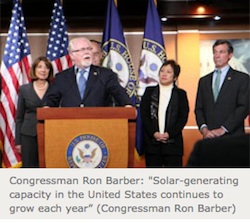 E.ON Climate & Renewables (EC&R) has dedicated two solar photovoltaic (PV) projects in the Tucson, Arizona area with a combined total of 15 megawatts (MW) of solar capacity. Both projects have long-term power purchase agreements (PPAs) with Tucson Electric Power (TEP). According to Dr. Christophe Jurczak, CEO of E.ON Climate & Renewables Global Solar, these two projects are among the most technologically advanced solar PV projects in the world.
"These are our maiden solar facilities in the U.S. and signal E.ON's commitment to solar development in the U.S. market," said Steve Trenholm, Chairman E.ON North America.
In a statement, Congressman Ron Barber of Arizona praised the economic development opportunities that solar power brings to Arizona and the local community. "Solar-generating capacity in the United States continues to grow each year. I am proud that Arizona is a solar leader with nearly 10,000 people employed in my state's rapidly growing solar industry."
The first of the two projects, a 5 MW project called Tech Park Solar (TPS), was developed in collaboration with the University of Arizona Science and Technology Park (UA Tech Park) and TEP. The project started generating power in December 2012. The second, 10MW, project, Valencia Solar, came online in June 2013.
"We've been consistently impressed by E.ON. The company offers innovative tracking technologies and their employees possess strong expertise in renewable energy. E.ON is easy to work with and we would be pleased to work with them again," said Carmine Tilghman, TEP's Director of Renewable Energy.
During the ceremony, E.ON donated $10,000 to Casa de los Ninos, a local non-profit organization dedicated to preventing and treating child abuse and neglect in Tucson.