In a letter sent to U.S. Representative Steve King (R-Iowa), the Iowa Renewable Fuels Association (IRFA) thanked the Congressman for exposing the Federal Petroleum Mandate and reiterating his unwavering support of the federal Renewable Fuel Standard (RFS) during this week's National Journal forum titled, "Biofuels Mandate: Defend, Reform, or Repeal." The forum was sponsored by the American Petroleum Institute (API), the national trade association representing the oil industry.
During the forum, Rep. King noted the RFS "is the only thing that gives market access so that corn and other product-based alternative fuels can get into the tank and be sold in competition with petroleum. If we lose (the RFS), then we have a government mandate, a federal mandate for petroleum only in our vehicles."
In the letter, IRFA Executive Director Monte Shaw wrote, "Your strong defense of the RFS at the National Journal/API event clearly articulated the importance of this policy in achieving market access for non-petroleum fuels, creating fuel competition, and adding value to the agricultural sector. In addition, IRFA would like to thank you for exposing the impact of the Federal Petroleum Mandate in your remarks at the forum."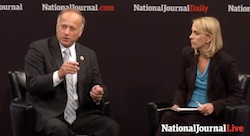 Shaw explained that for nearly 40 years federal law has required that any fuel consumers put in their tanks must be approved by the U.S. Environmental Protection Agency (EPA). Unless you own a flexible fuel vehicle, the only EPA-approved fuels are regular unleaded gas, E10, and E15. This means the approved fuels range from 100 percent petroleum to a minimum of 85 percent petroleum. Federal law dictates that if motorists use an unapproved fuel, meaning a fuel containing less than 85 percent petroleum, they are subject to a $25,000 per day fine.
The letter concludes, "IRFA greatly appreciates your efforts to expose the federal petroleum mandate and defend the RFS at the recent National Journal/API forum. As you well know, ethanol is cheaper, cleaner and higher octane than gasoline. As such, the ethanol industry stands ready to compete in a truly free market – a free market the petroleum industry works hard to ensure never exists."
In addition to Rep. King's keynote speech, a panel discussion was held featuring:
Paul Beckwith

, Chief Executive Officer, Butamax Advanced Biofuels

Michael Brower

, Interim President & Chief Executive Officer, American Council on Renewable Energy (ACORE)

Rob Green

, Executive Director, National Council of Chain Restaurants

Kris Kiser

, President & Chief Executive Officer, Outdoor Power Equipment Institute

Peter Lehner

, Executive Director, Natural Resources Defense Council

Damon Wells

, Vice President, Government Affairs, National Turkey Federation