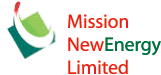 Australian biodiesel maker Mission NewEnergy Ltd. has sold its 30 MMgy biodiesel plant in Malaysia. Biodiesel Magazine reports that through its wholly owned subsidiary, Mission Biotechnologies Sdn Bhd, the $11.5 million deal was finished with Felda Global Ventures Downstream Sdn Bhd.
Mission NewEnergy stated that Mission Biotechnologies will use all of the proceeds from the sale to reduce loans from the holding company, which, in turn, will be used by the holding company to reduce borrowings at the group level, leaving a small amount to fund the group's general working capital.
Mission NewEnergy stated that, with the sale, Mission Biotechnologies will cease to have any operations and will become a dormant company.
Besides the biodiesel assets, Mission NewEnergy also has a wind energy operation in India. Felda Global Ventures Downstream deals in diversified agri-commodities with operations in 10 countries across four continents.