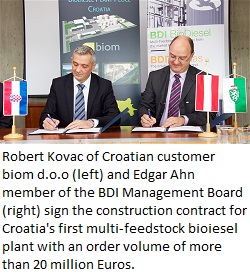 On the heels of Austrian BDI–BioEnergy International AG announcing deals to build biodiesel plants in the U.S. and UK, the company inked a deal to to build Croatia's first multi-feedstock biodiesel plant. The agreement was signed in front of Croatian and Austrian economic and political representatives.
The representative of the Croatian Chamber of Commerce, Ms. Vesna Trnokop-Tanta has pledged full support for the project and underlined, that this is an important step for Croatia in meeting the EU's demands regarding the renewable energy directive in the fuel sector.
[Edgar Ahn, PhD (CSO) – Member of the BDI's Management Board commented]:
"The installed BDI Multi-Feedstock BioDiesel Technology will enable our customer biom d.o.o. to convert many different waste and residual materials into high-quality BioDiesel. Thereby, it does not only make an important contribution to environmental protection in the area of transport, but also helps to safely dispose problematic waste streams or even convert them into useful substances. This confirms, that this BDI BioDiesel project is not only for BDI an important and pioneering project in the growing economies of South-East Europe, but in our opinion, for the State of Croatia this is a landmark project."
When the plant is up and running at the end of next year, it will produce up to 100,000 tonnes per year.