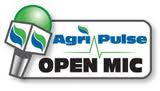 An executive for DuPont is predicting a bright future for advanced biofuels. During a recent podcast on Agri-Pulse, James C. Collins, Jr., senior vice president for DuPont's Industrial Biosciences, Performance Polymers and Packaging & Industrial Polymers businesses, says he is excited about the future of his company's new generation cellulosic ethanol plant in Nevada, Iowa and advanced biofuels in general.
"We believe there's enormous potential in this industry," he said during the Agri-Pulse Open Mic interview. Collins added that DuPont's connection in the agri-business field, including its stake in Pioneer seed, as well as its historic tie to industrial chemicals, gives the company some real tools to be successful. "When you think about the power of putting that all together, using our knowledge of agriculture and unlocking those gifts Mother Nature gives us, we're pretty excited about it."
He points out how the overall effort to use biomass materials, such as corn stover, to make advanced cellulosic biofuels, is a win for the environment, a win for the economy, and a win for the advanced biofuels market.
Listen to the whole Agri-Pulse Open Mic interview with James C. Collins, Jr. here.