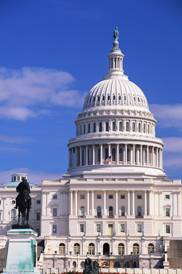 As lawmakers battle over the budget and Obamacare, the wind production tax credit could also come under fire. This blog posting from the political paper, The Hill, says House Republicans today are taking aim at the credits at a House Oversight and Government Reform Committee hearing.
"With the federal government currently at a standstill over budget negotiations, it is imperative for Congress to continue to root out and address wasteful spending of taxpayer dollars," states an advisory for the Wednesday hearing on the production tax credit.
An IRS official is scheduled to speak, as well as those favoring and opposing the tax incentive. The hearing starts at 9:30 am EDT in room 2154 of the Rayburn House Office Building in Washington, D.C.
We'll follow the develops and let you know if anything comes out of this hearing.