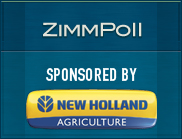 Our latest ZimmPoll asked the question, "What is your favorite rodeo event?" It looks like the majority of you are most entertained by the bull riding. Maybe it has just that extra thrill to see a cowboy ride such a huge animal!
Our poll results:
• Bull Riding 48%
• Barrel Racing 19%
• Bareback Riding 10%
• Tie-Down Roping 10%
• Team Roping 5%
• Steer Wrestling 5%
• Other 5%
"Wild Horse Race"
• Saddle Bronc 0%
Our new ZimmPoll is now live and asks the question, "Is there a difference between animal welfare and animal rights?" Which term is the best to use do you think? Or do they mean the same thing? Let us know!