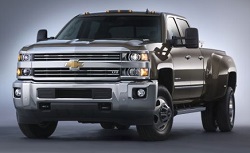 General Motors is offering some pretty clean options in a couple of its 2015 pickup trucks. This story from NGTNews says the latest Chevy Silverado HD and GMC Sierra HD pickup trucks will have compressed natural gas (CNG) fuel system options, as well as being able to run on B20 biodiesel.
"Because HD customers tailor their trucks to their specific needs, the 2015 Silverado and Sierra will offer a choice of three fuels – gasoline, diesel [including up to 20 percent biodiesel] or compressed natural gas," said Jeff Luke, executive chief engineer for trucks, during the vehicles' unveiling at the State Fair of Texas last week.
The standard engine in both the Silverado HD and Sierra HD is GM's 6.0-liter Vortec V-8. Customers can select a bi-fuel version of this engine that uses either CNG or gasoline.
"And you can now get CNG capability in all three cab configurations – regular, double and crew cab – and on both 2500 and 3500 models," Luke said.
The American-made trucks running on the American-made fuels will be able to do the heavy lifting truck customers demand, featuring a payload of nearly 7,400 lbs. and a conventional trailering rating of 19,600 pounds. The Duramax diesel engine, capable of running on B20, comes in the beefy 6.6-liter, 397 hp/765 lb.-ft. size.