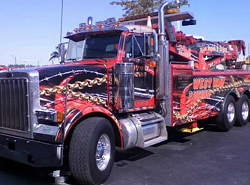 In a sign of the growing trend for more entrepreneurs to go more green and save some green, I ran across this article about a tow truck driver in Florida who wants to run his fleet on biodiesel. This story from the Ft. Lauderdale Sun Sentinel tells the tale of Westway Towing owner Craig Goldstein, who also has a side business, Oil Recovery Interests, collecting used cooking oil to sell to biodiesel refiners. Now, he wants to be the source of his own fuel.
No longer content with being the middleman, he wants to start a biodiesel plant at his location. He would use the biodiesel to fuel his fleet of 40 tow trucks and market it to others, he said.
"It's environmentally friendly," he said, adding that the federal government provides $2.50 in tax credits and renewable energy certificates for every gallon produced. "It's the wave of the future."
Turning used french-fry oil into truck fuel sounds like something out of Back to the Future, says employee Deron Key, recalling when Christopher Lloyd's character, Doc Brown, returns from the future and is able to use banana peels and other garbage to fuel his time-traveling DeLorean.
"That's what I see. That's awesome," said Key, who found out about the operation after being hired to paint some of the tanks.
Goldstein, who already has the biodiesel brewing equipment, just needs approval from city commissioners, who have already indicated support. If he gets it up and running, he could brew up to 2,500 gallons of biodiesel a week.