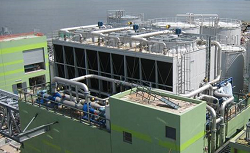 A Hong Kong biodiesel maker looks to go online soon, and when it does, it will be the city's biggest biodiesel refinery, turning waste oil into the green fuel. This story from the South China Morning Post says ASB Biodiesel will start up next month and turn out 100,000 tonnes of biodiesel a year.
The plant will refine 600,000 tonnes each year of grease trap waste into pure "B100" biodiesel blends for construction, transport and, later, petrol companies. About 95 litres of biodiesel can be produced with every 100 litres of waste oil.
That will be enough to offset 3.6 per cent, or 260,000 tonnes, of greenhouse gas emissions from transport each year, according to the company. But vehicle emissions of nitrogen dioxide and coarse pollutant particles (PM10) are only slightly lower for biodiesel than for regular diesel.
Company officials also expect to turn wastewater from the processing into bio-gas to power the plant's operations. While most of the biodiesel now is slated to go to Europe, the officials expect one day most of it will be consumed in Hong Kong.