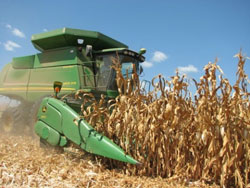 A drop in the price for the price for the primary feedstock for ethanol, corn, is helping ethanol producers make money again on the green fuel. This article from the Minneapolis (MN) Star Tribune looked at the industry tracking service Biofuels Benchmarking and how the new corn crop is helping put those margins back in the black.
"We are forecasting a good, solid year, as good as Blue Flint's ever had," said Greg Ridderbusch, president of the Maple Grove-based holding company for Blue Flint Ethanol in Underwood, N.D.
For the quarter ended in June or July, five of seven Minnesota-affiliated ­ethanol producers that release financial statements reported profits. Among those with improved results were Blue Flint and Heron Lake BioEnergy, based in Heron Lake, which reported net losses in the first quarter.
Most of the ethanol producers tracked by the Star Tribune reported getting higher prices per gallon for ethanol during the quarter — up to 13 percent more than the same period in 2012. Ethanol sales ­volumes also were up, due partly to the closing of some U.S. plants, ­producers said.
In a separate, private survey of 45 U.S. ethanol makers, Christianson & Associates of Willmar, Minn., reported that almost all plants broke even or made money in the last quarter. That's a big shift from recent quarters when only highly efficient plants made money.
"In the next two quarters, I think things will remain fairly consistent and even rise as far as earnings are concerned," said Paula Emberland, who manages Biofuels Benchmarking.
Also, when you consider that tighter margins in the last couple of years forced many ethanol producers to find more value-added items to get into the mix while cutting costs, that should set up the ethanol industry well for the future.