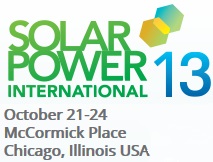 Nineteen up-and-coming companies have been picked to participate in a program to showcase sun power at next month's Solar Power International. The Start-Up Alley Challenge held on Wednesday, October 23 during SPI '13 in Chicago, is the culmination of the show's new Start-Up Alley, a new, featured show floor area at the solar meeting.
Start-Up Alley Semi-Finalists:


Mike Dershowitz, President & Founder of ModSolar, and the driving force behind the program, commented, "At so many major events, finding the start-up companies with the innovative ideas is like looking for a needle in the proverbial haystack. Start-Up Alley puts all the needles in one place."
The 19 semi-finalists chosen receive a free booth at SPI.