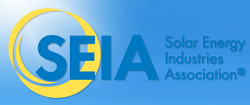 A pending trade dispute between the U.S. and China could hurt solar power in both countries, but an industry group believes it has a plan to head off the problem. This story from Bloomberg says the Washington-based Solar Energy Industries Association has floated a proposal to eliminate tariffs on solar gear, as well as putting together a fund with contributions from China to help U.S. solar equipment makers.
"The problem we have right now is that the trading rules are not working well," John Smirnow, vice president for [SEIA], said in a phone interview. "Solar has a very complex global supply chain" and relying on the existing system to settle trade disputes isn't working, he said…
The U.S. Commerce Department a year ago set penalty rates for Chinese producers, including Suntech Power Holdings Co. and Trina Solar Ltd. (TSL), after determining the companies had benefited from government subsidies and had "dumped" their products onto the U.S. market at below the cost of production.
In July, China began imposing duties as high as 57 percent on U.S. polysilicon imports.
The U.S. industry plan would abolish the U.S. duties on solar cells from China, as well as China's tariffs on U.S.-made polysilicon. Instead, China's solar-energy companies would establish a fund in the U.S. that American solar-cell manufacturers could draw from to help them "scale-up," Smirnow said. While the size of the fund would be negotiated based on market estimates, it would probably be in the hundreds of millions of dollars over the next three years, he said.
The plan also calls on Chinese manufacturers to fund a Solar Development Institute, benefiting American solar-energy manufacturers and developing a collaboration between the U.S. and Chinese industries. This plan is similar to a deal with Brazil over cotton.