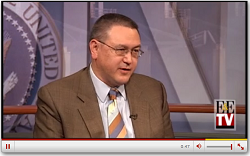 As the government considers the 2014 volume obligation for biodiesel under the Renewable Fuel Standard (RFS), the man in charge of the nation's largest biodiesel producer says his green fuel is ready to meet the mandates. On the E&ETV show OnPoint, Dan Oh, CEO of the Renewable Energy Group (REG) said biodiesel can be relied upon to provide advanced biofuels.
"We've commercialized over 15 years. We have a large installed base. We now are able to produce from a wide variety of raw material. And that really matters when you are thinking about keeping costs down and having broad choices in terms of how you can produce. So the study on your production has been result of innovation."
Oh just recently met with Office of Management and Budget officials on the RFS2 on the 2014 volume obligation for biodiesel and says the attitude toward biodiesel is very good in Washington, D.C.
I think the tone is favorable and supportive. You can look at the 13 final rule on the RVO that came out with EPA. They certainly highlighted in there how strong biodiesel is, and what a good position it's in right now. It's very much not part of the blend wall discussion because we don't have a blend wall. You know, we can blend it at high levels in varying ways around the country, and it is such a good carbon intensity count that people really like it.
Oh says his industry is asking for a "robust increase" in biodiesel's obligations, and biodiesel is ready to step in if other advanced biofuels can't meet their obligations.