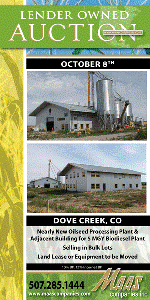 Maas Companies of Rochester, Minn., will liquidate the former San Juan Biofuels Oilseed Crush Facility located in Southwestern Colorado at a Lender Owned Auction.The auction will be conducted on-site at the plant, 7099 CR H, Dove Creek, Colorado on Tuesday, Oct. 8 at 10 a.m. The auction offers on-site and internet based bidding opportunities.
San Juan Biofuels was originally a local coop targeting biodiesel production from sunflower oil.Due to the economic conditions the biodiesel plant equipment was never purchased.The coop altered its focus to include: food grade vegetable oils, animal feed, renewable heat, electricity and wood pellets.The plant operated until 2011, and now the equipment is ready for a new owner.The auction will sell the plant for sale in bulk lots, including over 70 lots of equipment, two buildings and ancillary equipment selling in bulk lots or as an entirety with a land lease or to be moved.The real estate is on a long term lease with Dolores County Development Corporation, buyers are encouraged to contact the auction company to explore the land lease opportunities.
A complete package detailing the bidding process is available by contacting the auction company directly at 507-285-1444.Information can also be found at the company's website: www.maascompanies.com.