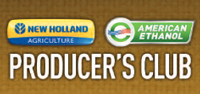 New Holland is proud to be powering American Ethanol as the premier equipment partner for Growth Energy and its member ethanol plants.
"We're pushing forward with a positive message about ethanol and working together with not just the plants but also the producers," said Luke Johnson, Growth Initiatives sales manager with New Holland, at the kickoff of a New Holland American Ethanol Producers Club event at the Absolute Energy plant in Lyle, Minnesota.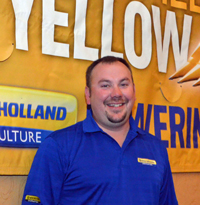 The producers club is a way for New Holland to show its support of the farmers who produce the corn that makes American ethanol. "We have a great discount structure program set up for them," Luke said. "Our partnership is circular for everyone. The producer helps the ethanol plant and gets better prices in the corn market because of the industry, we support them with a fantastic discount program and support the industry at the same time to keep the positive message out there."
The event at Absolute Energy is the 12th one that New Holland has held this year and Luke says they expect to do more next year. "Everything about it has been positive," he said.
Listen to my interview with Luke here: Luke Johnson, New Holland
New Holland American Ethanol Producers Club photo album