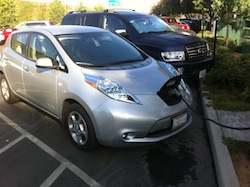 The University of California, Riverside has installed eight electric vehicle charging stations as part of the College of Engineering – Center for Environmental Research and Technology's (CE-CERT) "New Grid" project. The new charging units have "level one" and "level two" charging capability and are located in parking lots 1, 6, 15 and 30. Four additional "level two" chargers are located at the CE-CERT parking lot at 1084 Columbia Avenue in Riverside. The on-campus units are overseen by the UCR Office of Transportation and Parking Services and are part of the Chargepoint network.
According to Irma Henderson, alternative transportation program manager in Transportation and Parking Services, drivers will need to have a valid parking permit to use the space, though any permit that is valid for that time of day will be allowed, regardless of the lot that the stations are in.
"For example, the station in Lot 1 is located in the red spaces, but a person with a blue permit can park there as long as they are participating in an active charging session," Henderson said.
The cost to charge a vehicle will be $1 per hour for the first four hours, then $3 per hour thereafter.
Henderson said that UCR-affiliated individuals will be able to enter a special code into the system that will provide a $1 per hour discount at the campus charging stations, making the service free for the first four hours.
The "New Grid" project is a two-year smart grid deployment supported by the South Coast Air Quality Management District. The project involves a number of public and private partners and will include, solar arrays, advanced battery storage, vehicle charging stations, an electric trolley, and a grid management system to utilize renewable energy to charge electric vehicles efficiently. As part of the program, 13 additional charging stations are being installed throughout the City of Riverside.