Siemens has unveiled plans to build a new, state-of-the-art wind service training facility in Orlando, Florida. The facility will offer comprehensive skills and safety training to its service technicians and engineers worldwide. The 40,000 square foot center will be located close to the the company's global Energy Service Division in Orlando and is expected to be one of the most advanced wind training facilities in the world.
"We are pleased that Florida remains a solid business base for Siemens as indicated by its choice of our state over other U.S. states for this innovative, high-tech training center," said Florida Governor Rick Scott.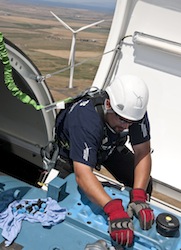 Siemens' initial investment will be approximately $7 million and the company plans to create 50 new full-time jobs and host approximately 2,400 trainees annually from the U.S. and the Americas. The training center, which is being built based on LEED Gold green-building standards, is scheduled to begin operations by this summer.
"As wind energy has become a mainstream source of power generation, the continued reliable and competitive performance of renewable energy is critically important to meeting the nation's future energy demand," said Randy Zwirn, CEO of Siemens Energy, Inc. and CEO of Siemens Energy's global Service Division. "As an industry leader in both onshore and offshore wind, Siemens is poised to meet that demand and this new, advanced training facility in the U.S. will help ensure that our wind service technicians receive the highest standard of technical and safety training."
The wind training center will provide technical and health and safety training for Siemens' wind power service technicians. The central feature of the new training center will be two full-size Siemens nacelles upon which wind service technicians will be trained to perform maintenance based on Siemens specifications. In addition, two 32-foot high climbing towers, ladder structures, electrical and hydraulic modules, and a maintenance crane will make training, safety and rescue simulations possible under realistic conditions.